How it works
Kia's commitment to a sustainable future for the people, the environment, and the future
Kia ESG Policy
We introduce our ESG policy book which contains Kia's policites on vaious ESG issues across the value chain. Kia establishes company-wide policies for ESG issues such as human rights, safety, and the environment to provide business standards and guidelines for us and our partners. We will continuously revise our policies in response to the changing environment.
Administration Agenda
Kia's commitment to internalizing sustainability management starts with reorganizing the infrastructure that underpins it. We renamed the Transparent Management Committee the Sustainability Management Committee, and the Board of Directors received reports on sustainability management issues two times a year. The Sustainability Management Committee now reviews ESG agendas, allowing non-financial risks to be continuously managed and supervised. In addition, we have strengthened the operation of the company-wide ESG Council, operated by the Environmental Management, Social Outreach, Corporate Governance, and Strategy-building subcommittees. Through semi-annual ESG Council meetings, we promptly respond to ESG issues and report the major conclusions to the Board of Directors and the executives.
For sustainable and responsible management, Kia sets ESG performance as a main factor of the executive's KPIs(Key Performance Indicators) which affect their compensation. By connecting ESG performance with the evaluation and compensation, Kia motivates itself to make progress with ESG goals. The ESG performance for the KPIs consists of ESG ratings results and detailed issues(eco-friendly vehicles sales, quality and environment management, and so on).
The proportion reflected in the evaluation varies by different organization. Based on Korea HQ operating division, an average of 10% is reflected in 2021 KPIs

CEO
ESG Committee

Environmental ManagementEnvironmental, Fire facilities Management Team
Social OutreachSustainability Management Team
Corporate Governance (Economy)Compliance Management Team
Strategy-buildingStrategic Business Planning Team

Sustainability Management Team
Sustainability Management Committee under Board of Directors
Integrated Risk Management
Risk Management System
Kia has established and is operating a company-wide risk management system to respond promptly and strategically to the rapidly changing internal and external environment. Through the Kia Management Strategy Meeting, a C-Level meeting hosted by the CEO, major company-wide risks are checked in advance and response strategies are discussed, and related risks are continuously monitored through organizations such as legal affairs/audit department.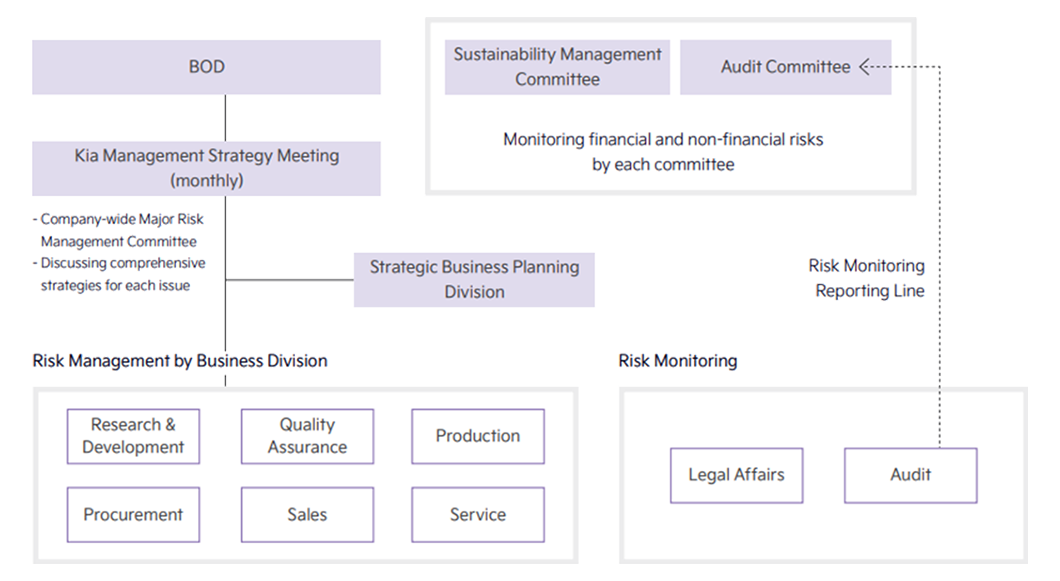 Reponse to key risks
Kia is conducting risk appetite-based responses to major risks that may affect sustainability of business.
For issues with a low risk appetite, agendas are continuously presented at executive meetings, including the top management. Kia promptly responds to external changes through related councils. Major risks to the company are identified as legal/regulatory risks, product/quality risks, safety and health risks, and macroeconomic risks and managed accordingly.
In particular, in the case of laws/regulations, Kia, as a global company conducting business in various regions, is subject to various laws and regulations throughout the product value chain. Various regulations are being strengthened in relation to the use of parts in vehicles, and these regulations affect raw material procurement, partner management, and cost increase, and a company-wide response is required. In particular, in the case of the EU, there is a movement to strengthen regulations on the use of plastic in vehicles, and in order to respond to this, Kia is actively involved in R&D and implementation of technologies such as the operation of a TFT for expanded application of recycled materials and the recovery of plastic from scrap car parts through the operation of a pilot project of the scrap car network.
In addition, in the case of safety and health risks, it is one of the most important risks to be managed due to the nature of the traditional manufacturing industry, which operates its own business sites and supported by internal/external partners and relies on a large number of workers. In particular, with the strengthening of the Severe Accident Punishment Act in Korea, the business risk of safety and health issues is being further strengthened. In response, Kia has established the safety environment management system internal review program (KIA SEMS) according to the safety environment vision 2025 roadmap and has been promoting improvement activities every year. In 2023, we enacted safety and health management policies to prevent accidents that may occur throughout business operations, including the supply chain and business sites, and to promote the safety and health of workers.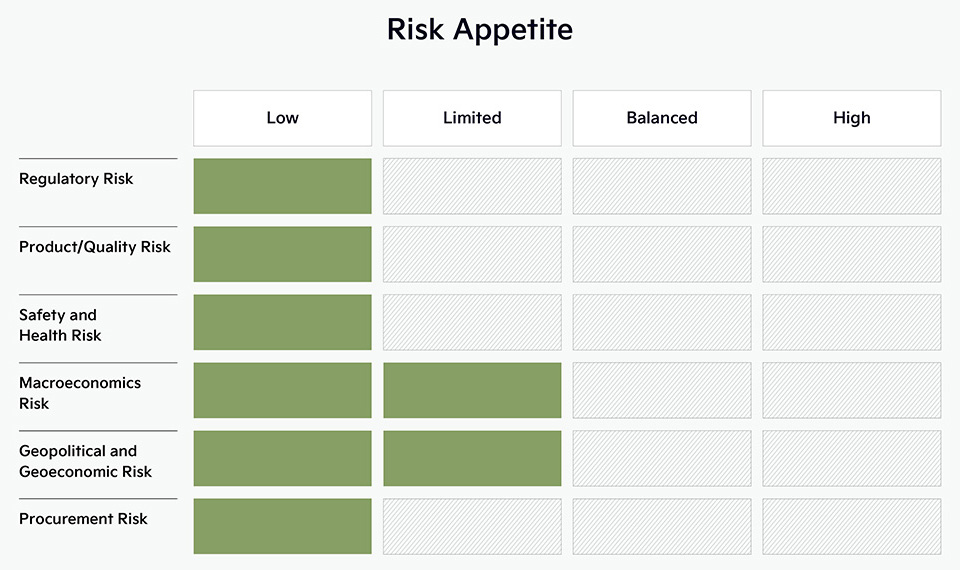 In order to respond to various financial/non-financial risks as described above, we set related risk management indicators within KPIs for the CEO and management to provide compensation according to performance. The performance evaluation process takes into account various factors such as tenure, leadership, expertise, contribution to the company, and human resources development. Moreover, evaluations are conducted as per reasonable standards and on a variety of items, such as financial performance (business performance including sales and operating income which forms the basis of financial indicators such as ROE and ROI), comparative indicators (e.g. stock price variation vs. automotive industry peers, competitiveness evaluation, ESG Performance), the executive's performance and contribution, and internal/external business environment. Performance evaluations for executives, including the CEO, are conducted on a yearly basis, and all performance-related bonuses are determined through these evaluations.